About Beamit Communications
Beamit Communications was created in the '90s in Silicon Valley to service technology, consumers, and retail organizations globally. We provide creative, dynamic, result-oriented results for some of the world's largest companies in addition to SMBs and start-ups.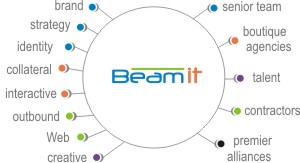 Beamit brings extensive technology and consumer sales and marketing experience to the table. We optimize your ability to communicate with your target markets and maximize revenue potential in the most cost-effective way possible.
Our senior team is the lead for all deliverables. Rather than carry a large staff, we use top-level contractors, boutique agencies, and premier national alliances so that we can scale to virtually any size project. Once the project is over the team dissolves, but your investment in brand, strategy, design, and media is protected by Beamit for additional updates and new projects. You don't have to carry our overhead while we wait for new client revenue.